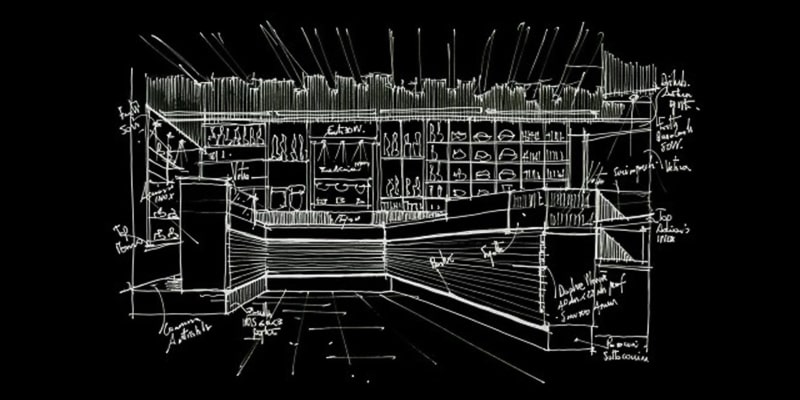 "[…] Compiti dell'ingegnere: rispetto delle leggi fisiche, resistenza dei materiali (limiti materiali, calcoli, uomo economico, sicurezza…). Compiti dell'architetto: conoscenza dell'uomo, immaginazione creatrice, bellezza, libertà delle scelte"
- Le Corbusier
Interni Commerciali
Numerous and diversified the interventions of architecture of insides and interior design have been implemented by F_STUDIO+.
The conception and the aim to be reached, by every architect, of the project "complete and exhaustive" understood as "the endless sum of perfect details" (Mies Van Der Rohe), so dear an affirmation to F_STUDIO+, has brought to the care of the detail of every single component, element or material, in numerous realizations in order to accomplish a complete satisfaction, not only functional, but also practical, aesthetical and "emotional" of the project that has become concrete reality.

All these interventions have as their guiding thread the respect and enhancement of the specific components of human well-being within Architecture (in any type and at any latitude), in particular the four cardinals: lighting (natural and artificial), ventilation (natural and artificial where necessary),
air conditioning (aiming where possible at renewable sources or in any case always with a high level of energy saving) and last but not least, acoustics (collaborating constantly with one of the leading companies in the world of sound absorption).

Often in such projects and realizations, where necessary, F_Studio+ conceives and gives voice to the aesthetic and graphic redefinition and requalification of companies, within to new principles and production, logistic and marketing strategies, designed and implemented by F_Studio+ in line with the contemporaneity of the concerned individual sectors and levels, also through the use of new materials and visual principles also touching the psychological, sensory and emotional side.

Projects carried out